Are you spending too long at work?
(...and missing out on life!)
Does this sound like you?
You spend too much time copying and pasting data between workbooks, and then spending more time performing the same time-consuming actions to turn that data into something useful?
You work through your lunch break and take work home so you can catch up during the evening and weekends?
You're bored at work because you're doing the same repetitive reporting tasks every day, week, or month?
Whenever you complete one task, there is always another forecast, period-end, or deadline to move straight onto.
You never quite catch up and feel like you're constantly running just to stand still?
You would love to automate your tasks, but you feel overwhelmed by the number of features, and not sure where to start?
You feel like you're destined to keep working late and missing out on what is important to you?
Others might choose to do this, but you can choose a different way!
Imagine a world where you could complete your Excel work quickly with no stress; saving time and getting to spend more doing thing things you love.
Actually, you don't need to imagine, this world already exists. You just don't know how to do it yet.
Excel is the most powerful, most flexible, and most used software on the planet. Used correctly, it can automate your tasks. But often, it gets too complex.
Our academy is different, it is based around a key question:
"What would Excel automation look like if it were easy?"
In solving this question, we created a repeatable process for automation. No matter your start point, no matter your endpoint, the steps are the same.
Once you know the steps, you can apply them over and over again in different areas of your work. Achieving greater and greater time saving each time.
This is what we teach in our Excel Academy.
Everything you need to succeed, all in one place
Courses
We've made it easy for you to learn with a clear structured approach.
Course includes: 
On demand self-paced training videos  |  Real-world projects to work through 
Downloadable workbooks and practice files  |  Quizzes to test your knowledge  |  Certificates of completion 
Excel Automation Secrets
Discover how to apply the reporting & analysis blueprint to automate your work with Excel.
Ultimate Excel Tables
Excel Tables are one of the most powerful features in Excel. This course will show you how to master them and use them for dynamic reporting and analysis.
Power Query Pro
Discover how to combine and transform inputs into the perfect data structure using Power Query.
Mastering Power Pivot
Start building robust data models to improve your data analysis and handle unlimited data.
Excel Skills Boost
Beginner to Expert
Learn the core skills needed to be efficient and effective in Excel.
Office Scripts
Automate Excel Everywhere
Discover how to use Office Scripts in Excel 365 to automate your work.
Full Syllabus
Click on the arrows in the sections below to see the syllabus for each course.
Excel Automation Secrets (4 hrs 53 mins)
Power Query Pro (7 hrs 10 mins)
Ultimate Excel Tables (3 hrs 41 mins)
Mastering Power Pivot (5 hrs 8 mins)
Skills Boost: Beginner to Expert (15 hrs 4 mins)
Office Scripts (9 hrs 36 mins)
---
Tools
The templates and add-ins included in the academy are designed so you can start automating Excel faster and easier than any other training program.
Power Query Quick Steps
Custom function library filled with easy transformations for tricky scenarios.
Makes Power Query easier for longer.
Automation Toolkit
Automate the tasks you don't want to do with our exclusive Low Code / No Code automation tool for Excel.
Push: Fast Presentation Creator
Create PowerPoint presentations from Excel faster and easier than ever before.
Document Control Template
Take control of your inputs to ensure your automation can find the files and folders it needs to run successfully.
Tool information
Click the sections below to discover more about each template/add-in.
Push: Fast Presentation Creator
Document Control Template
---
Community & Support
We provide the support you need so you can implement the techniques in your work.
Community Support Forum
Available to you 24/7 to ask questions and get support.
Live Member Calls
Get direct, live help for your Excel problems on our Q&A calls.
---
Resources Library
Supporting your on-going development
Masterclasses
Go deep with live sessions with topic experts. Access to recordings of previous sessions.
Ebook Library
Download top Excel and Power BI titles from the ebook library.
Built by somebody who has been there
About 10 years ago, I set out on a mission…
"Something's got to change…" they were the words spinning around my mind as I sat in my car. I had just arrived home from work, it was 11pm.
It had become a common routine. Sometimes it was 9:30pm, sometimes it was 11:30pm. The exact time was largely irrelevant. What mattered was that I had missed seeing my children…again.
The people at the company I had only recently started working for were amazing; but the hours were killing me.
I had a young family, and wanted to be around and see them grow up. But because of this job, I never saw my children, I hardly saw my wife, and most days I didn't even see daylight.
No matter how fast I worked, it made no difference. There was a solution, I decided that if I could learn how to automate my tasks, I could make it work.
Through this journey, I discovered something surprisingly simple, yet unbelievably powerful.
Here is the secret… all reporting and analysis can be achieved with a 7-stage blueprint. If we can identify the Excel tools for each section of that blueprint, and ensure they pass information from one stage to the next, then we can automate all sections of our work.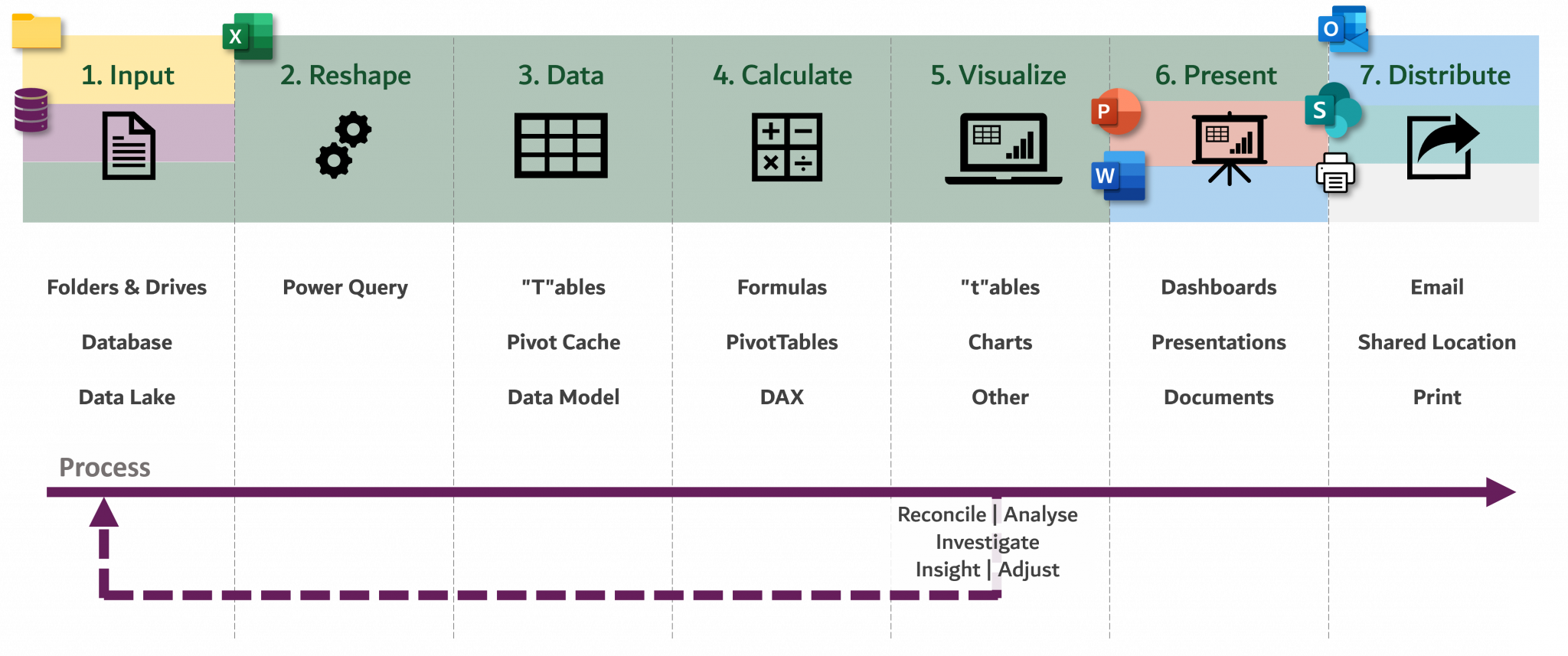 Automating Excel is a bit like the 4 x 100m relay at the Olympics. It's not just about running fast, it's also about passing the baton. If a team drops the baton, they're disqualified.
The individual features in Excel are like the runners. They each do their job to get further along the track. But automation is our ability to pass information (i.e. the baton) from one tool to the next. If the information gets dropped at any point, we must step in and handle it manually.
Over the last 10 years, I've discovered the best ways to combine these tools, so that we can automate Excel.
Each year, through Excel Off The Grid, I help millions of people through the blog, YouTube channel, books, and courses. Because of this commitment to helping others, I was recognized as a Microsoft MVP in 2021.
I now teach others how to use Excel to pass information along every stage of the journey; creating automations that are repeatable and save huge amounts of time every month.
Start automating Excel, saving time, and enjoying your job
Excel automation can change your life, just like it changed mine.
STOP:
Stop working late just to get your day-to-date activities complete.
Stop doing the tasks a well-trained monkey could perform (you're better than that!)
Stop feeling stressed about forecasts, month ends, and deadlines.
Stop fearing the "last-minute change" that could result in hours of re-work.
START:
Start spending more time with your family and friends and doing what you love.
Start performing at a level way above your co-workers, increasing your chance of a promotion or a bonus.
Start building a desirable skill set that every employer wishes their employees had.
Start adding value to your business and become the office hero who saves everybody time.
COURSES
Over 45 hours of high quality on demand self paced training courses.
Excel Automation Secrets
Value $127
Ultimate Excel Tables
Value $97
Power Query Pro
Value $247
Mastering Power Pivot
Value $197
Excel Skills Boost: Beginner to Expert
Value $247
Office Scripts: Automate Excel Everywhere
Course Value: $227
Bonuses Value: $275

 

(Cheat Sheets + Code Library)
TOOLS
Templates & add-ins to accelerate your time saving end make automating Excel faster and easier.
Power Query Quick Steps
Function library + Excel Add-in + Training videos (2 hrs 30 mins)
Value $75
Automation Toolkit
Excel Template + Training videos (5 hrs 46 mins)
Value $195
Push: Fast Presentation Creator (Excel Add-in)
Value $47
Document Control Template (Excel Template)
Value $47
COMMUNITY & SUPPORT
Access to community support forum
Value $450
Live member calls
Value $600
RESOURCES LIBRARY
Masterclasses (Live access + previous recordings)
Value $600
Ebook Library
Value $250
TOTAL VALUE: $3,681
Our price to you:
30 Day Money Back Guarantee
Your purchase is covered by a no questions asked, 100% money-back guarantee.
We never want you to be disappointed. So, if you are not satisfied, please get in touch with us within 30 days, and we will give you a full refund.
What do people say about our content and training?
John
"Mark, you're an absolute legend! 🏆
You've just guided me through the final steps I needed in order to finish building a tool I've been working on most of the day.
The tool is to be used to work through over 100 separate cases, with more likely to come, which each take 15 minutes to complete, at best.
This has changed my individual case time down to a little under two minutes. That's a massive saving of over 22 hours on just this current batch!!! 😲"
Jim
"Mark, you are one of the best mentors I have ever had the privilege of learning from. Your down to earth and easy explained examples are tremendous. You stand apart by your endless willingness to help where you can. Thank you sir. I will forever be in your debt and will endeavour to share what knowledge I have as you have demonstrated so skillfully.
Cheers!"
Frequently Asked Questions
What skill level do I need to join?
How long do I have access?
How long does it take to learn everything?
When does the training start and finish?
What if I'm not satisfied?
Can my company pay for the membership?
What if I have questions or I get stuck?
I've got more questions, who can I contact?